Last updated on .
Hits: 1109
9 cheap villas to rent near Carcassonne airport France 2022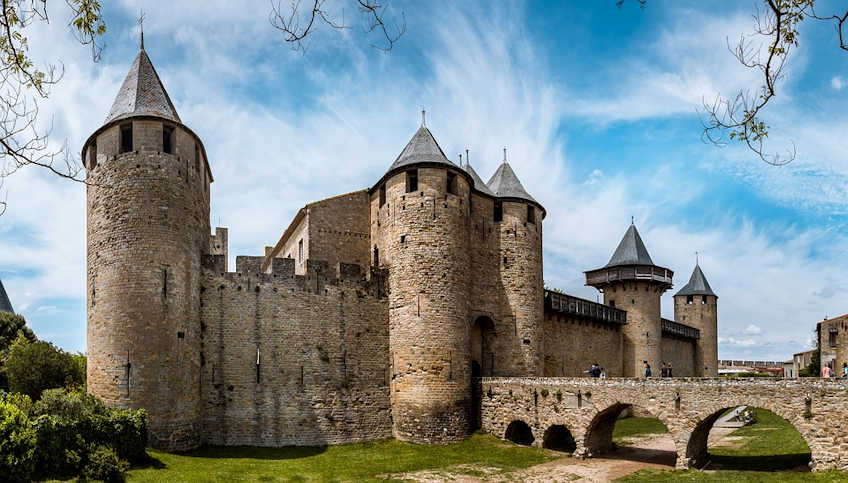 The beautiful medieval castle at Carcassonne is the second most-visited historical monument in France. Carcassonne has an international airport on the North-Western edge of the town, which serves as the gateway to the Aude, Tarn and Ariege departments of Southern France. This area of France is commonly known as Cathar Country, on account of the number of Cathar castles like Aguilar, Montségur, Peyrepertuse and Quéribus and ancient Cathar settlements (such as Minerve, Fanjeaux and Laurac).
Our article on the Cathars in Languedoc, provides you with some background history on this remarkable religious community and some of the best sites to visit.
This selection of villas in South France are within 30-40 mins drive of Carcassonne airport and offer some great deals on 2022 holidays. With the large number of Ryanair low cost flights into Carcassonne from the UK and Ireland, the local area is a good choice as a base for a family holiday in France.
The rolling countryside around Carcassonne is dominated by vineyards, rocky outcrops and the slow meandering path of the Canal du Midi - lined by its tall Plane trees.
Villas to rent near Carcassonne France
I travel around Carcassonne quite a bit visiting the holiday villas and long term rental properties that we advertise on Go Languedoc. I would say that the following are my favourite towns and villages if I was to recommend places to stay.
There are some unremarkable towns and villages in the Aude department (like Bram, Limoux and Trebes) and even Carcassonne itself - aside from the Castle and Bastide - doesn't really offer a lot for visitors. But there are some pretty hilltop villages, market towns and beautiful places along the Canal du Midi:
Mirepoix - is a beautiful medieval town with one of the most beautiful market squares in France. There are plenty of shops and good restaurants. The market is held every Monday and the town gets very busy. Mirepoix is 30 mins drive from Carcassonne.
Fanjeaux - a lovely hilltop village just 15 mins from Carcassonne airport. You get some lovely views of the Pyrenees on clear days. The village has an excellent restaurant, a shop, award-winning boulangerie/patisserie and a cafe.
Ventenac-en-Minervois - this is a beautiful village built on the banks of the Canal du Midi and surrounded by vineyards. The village has 2 restaurants and an excellent local wine cellar.
Le Somail - is another pretty village on the Canal du Midi
Homps and Olonzac - are two small market towns, both of which are very popular with visitors
Montouliers - is a stunning hamlet, set on a hill and surrounded by the vineyards of the Minervois wine region. The former Cathar village of Minerve is close-by.
Ferrals-les-Corbieres - is a popular large village close to Carcassonne. The village features an excellent wine bar run by a former French Rugby international. The village also has a restaurant, shop and boulangerie.
Cesseras - is a pretty village, close to the beautiful old Cathar village of Minerve. It is also just a short drive from Olonzac and Homps.
Canet d'Aude - is a popular village with a plane tree-lined main street and plenty of facilities (bar, restaurant, shops, boulangerie, butcher and hotel with fine-dining restaurant).
Cheap flights to Carcassonne airport
| | | |
| --- | --- | --- |
| | All year 2022 | April-October 2022 |
| Cork airport | | Mon, Fri (June-Aug) |
| Dublin airport | Fri, Sun | Tues, Thur, Sat |
| East Midlands airport | | Tues, Sat |
| Edinburgh airport | | Tues, Sat |
| London Stansted | Wed, Fri, Sun | Every day |
| Manchester airport | Mon, Fri | Mon, Fri |
You can fly to Carcassonne airport from the following airports in the UK and Ireland. These are the departure/return flight days for 2022. Ryanair tends to increase the volume of flights to Carcassonne during the summer holiday months, as well as increasing the number of routes (Cork, East Midlands and Edinburgh airports only operate flights to Carcassonne during the summer).
Return flights to Carcassonne airport are currently being advertised on Ryanair from €115 return during August (from Manchester).
Carcassonne airport has a couple of departure lounges and one arrival lounge. You can usually be out of the door within 15 mins of landing. There are 5 main car hire companies at Carcassonne airport: Hertz, National, Europcar, Enterprise and Avis. The car hire office is just a 2 minute walk from the arrival hall.
There is also a shuttle bus service from Carcassonne airport to the centre of Carcassonne and the train station. The bus services coincides with the arrival of the flights.
For all the latest Ryanair flight costs and availability, please check the Ryanair website: FLIGHTS TO CARCASSONNE AIRPORT
9 Cheap villas to rent near Carcassonne airport France
Here is a selection of 9 cheap villas in France to rent close to Carcassonne airport for budget family holidays in 2022. Please check the property pages for the latest availability and prices:
1. Large 5 bed holiday rentals property, South France, private pool (Ref: 1676)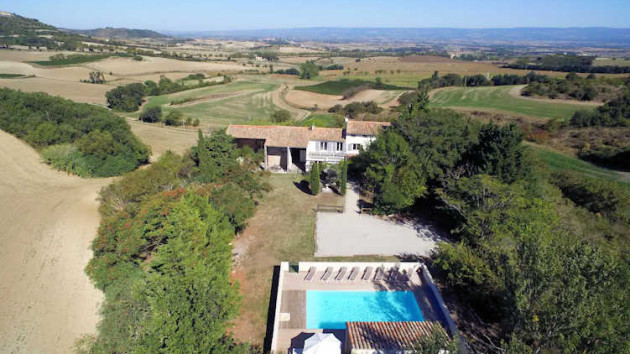 This lovely farmhouse for holiday rentals is ideal if you want to find accommodation to rent for a large family group in Southern France. The property can easily accommodate up to 14 people and is a great space for children and adults alike. The farmhouse is located near the wonderful city of Carcassonne, with its famous castle; and provides easy access to both Carcassonne and Toulouse airports. The farmhouse is also conveniently located to explore the wonderful market town of Mirepoix, as well as the Pyrenees, the Canal du Midi, Cathar castles and the Mediterranean beaches. This large holiday rentals property near Carcassonne, South France, can sleep up to 14 people and comes with a private pool and stunning views. This renovated farmhouse comes with 5 bedrooms and is conveniently located on the outskirts of the medieval village of Fanjeaux in between Carcassonne and Mirepoix. The Farmhouse is equipped to a high standard and is very bright and airy inside. The Farmhouse provides total peace and quiet, yet is only a 2 minute drive to the village where you will find an excellent boulangerie/patisserie, cafe/tabac, restaurant and shop.
2. French farmhouse with pool to rent near Carcassonne (sleeps 10) (Ref: 635)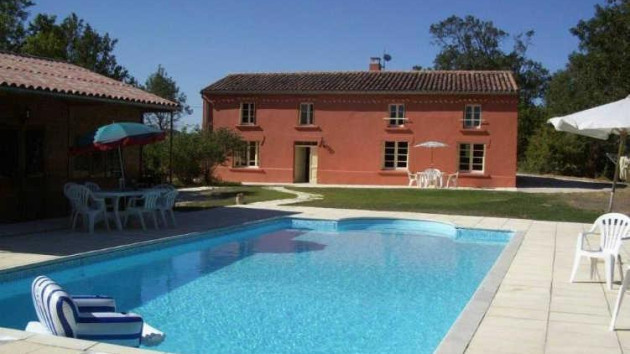 If you are looking for a wonderful family holiday in the South of France, then this rural farmhouse located in between Toulouse and Carcassonne offers the perfect base. The farmhouse is large enough to accommodate an extended family of all ages, wanting to spend some quality time in France. The surrounding area has some lovely villages, with weekly markets and plenty to do and see. The farmhouse is very convenient for the airports in Toulouse and Carcassonne and provides easy access to the A61 motorway. This French farmhouse with pool to rent is a lovely rural property, situated in a very peaceful location, close to the Canal du Midi. Nearby you will find local restaurants and shops and there is a boulangerie 3kms away and a farm shop within 1km. This French farmhouse to rent comes with lovely views over the Lauragais countryside. Closeby is the famous town of Castelnaudary, which has a full range of shops, supermarkets and restaurants. The farmhouse has 6 bathrooms, 5 bedrooms, 2 reception rooms as well as a large kitchen/diner. Outside there is a wonderful garden and large private pool. The farmhouse can sleep 10 people in comfort.
3. Canet d'Aude French villa rentals property near Narbonne (Ref: 642)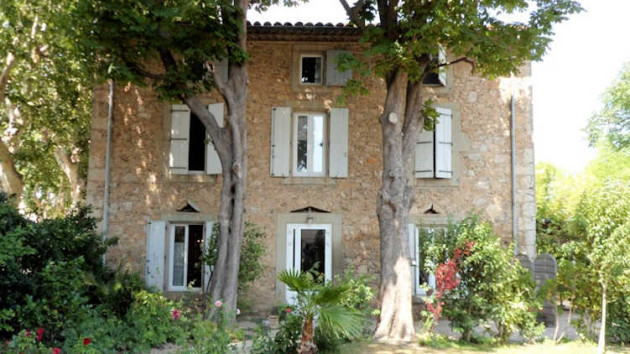 This French villa rentals property is a beautifully restored French town house that comes with 5 bedrooms (4 en-suite), a large mature garden, a lovely swimming pool and a garage with table tennis table. This lovely stone property is located in the village of Canet d'Aude, in between Narbonne and Carcassonne. The house is situated in the heart of the village, with shops, cafes and restaurants all close at hand. The house offers all the modern comforts you need and the shaded terrace is a great place to sit and enjoy a leisurely lunch, overlooking the swimming pool and the nicely landscaped garden.
This wonderful French villa rentals property has all you need for a holiday in the South of France. Private pool, all mod cons and is perfectly placed to explore the Languedoc region. Sleeping up to 10 people this French villa rentals property is ideal for 2 families or friends holidaying together.
4. Olonzac, Languedoc holiday rentals property with roof terrace (Ref: 253)
This holiday rentals in Olonzac is ideal if you want to find a quiet and relaxing self-catering vacation rental near to the wonderful city of Carcassone. Olonzac is conveniently located to explore the Minervois wine region as well as the main sites of the South of France. This tastefully decorated and well-equipped holiday house rental offers excellent value for money. Bars and restaurants are a one minute walk away, as is the busy Tuesday market.
This Olonzac holiday rentals property is an 18th century town house in the heart of this old village. The house has been refurbished and finished to a high standard with high quality furniture and decor. The work has been carried out sympathetically and many of the original features have been retained. A light and airy property benefiting from all mod cons including UK TV and modern fitted kitchen. Spacious accommodation ideal for couples, this holidays rentals property also benefits from it´s own private terrace. The property is within walking distance of restaurants, bars, shops and the Tuesday market in Olonzac.
5. Cesseras holiday villa Languedoc with private pool sleeps 6 (Ref: 1446)
This lovely holiday villa with private pool is located in the village of Cesseras, in between Narbonne and Carcassonne and close to the ancient Cathar village of Minerve. The villa comes with 3 bedrooms, WiFi and a nice secluded courtyard garden. Cesseras, is convenient for exploring Carcassonne, the Canal du Midi, the many Cathar castles in the area and the beaches of the Languedoc coast.
This holiday villa in Languedoc was built in the 18th Century and originally housed the winery for the Chateau de Cesseras. The holiday villa has recently been refurbished to a very high standard and comes with WiFi, two terraces, a lovely open plan living room with exposed stone walls and 3 bathrooms.
6. Maison de la Roche gites in France with pool sleeps 4 (Ref: 1504)
Maison de la Roche gites in France with pool are situated in the quaint wine making village of Ferrals-les-Corbieres, in between the mountains and the coast. The beautiful city of Carcassonne is just down the road. The gites come with a lovely heated swimming pool and plenty of shaded space to enjoy a good book or a glass of wine.
These gites in France are the ideal place for a family holiday. The layout of the gites ensure that you have your privacy, but it is also possible to rent an adjoining gite if you are two families holidaying together. The local area is covered in vineyards and there are plenty of areas to explore, including Carcassonne Castle, the Cathar ruins dotted across the landscape and the beaches at Gruissan and Narbonne Plage. There are 3 gites for rent at Maison de la Roche.
7. Gites for rent near Carcassonne, Southern France (Ref: 876)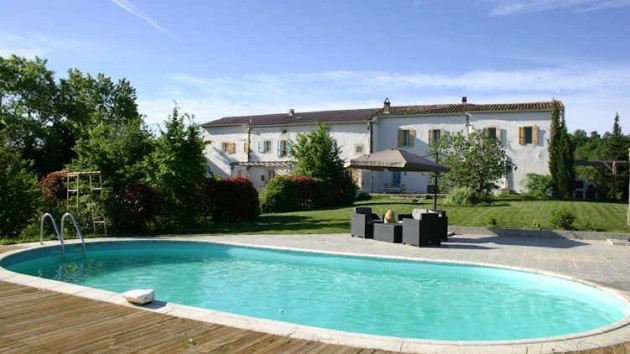 If you are looking for a relaxing holiday in South France, then these gites near Carcassonne in Southern France are perfect. The surrounding countryside offers you all the peace and quite that you could need. There is a shared swimming pool where you can cool off and wind-down. The gites are located in between Carcassonne and Mirepoix and this is an ideal spot for a family holiday in the South of France.
There are 3 gites available to rent. Each gite sleeps up to 4 people in 2 bedrooms (1 double bedroom and 1 twin bedroom). The gites are very well equipped with fully-fitted kitchens, spacious lounges and a private terrace with lovely views over the open fields.
8. Villa Alarelle, Carcassonne vacation villa rental South France with pool (Ref: 88)
If you are looking for a large luxury villa rental in South France, that is equipped and finished to a high standard for a family holiday then Villa Alarelle is perfect. The swimming pool and tennis court ensure that the active among you are entertained. The panoramic views, patio and excellent local wines ensure that the hard-working Mums get the peace and quiet they deserve! The children also have the Mediterranean beaches to explore and the tow path of the Canal du Midi to cycle along.
Villa Alarelle is a fantastically well-equipped large luxury villa rental in South of France with pool for an extended family or a group of friends. The villa is located in the historical hillside village of Montouliers with outstanding views overlooking the surrounding vineyards. This vacation villa rental in South France offers 6 bedrooms (sleeps 12+2 babies), 4 Bathrooms (2 en suite), a 70m living area, a fully fitted kitchen, a solar heated 12.5 metre swimming pool, new hard tennis court and landscaped gardens of approximately one acre. If you are looking for a large and luxurious vacation villa rental in South France, then Villa Alarelle is perfect.
9. French holiday homes, Aude, Languedoc with pool (sleeps 4) (Ref: 589)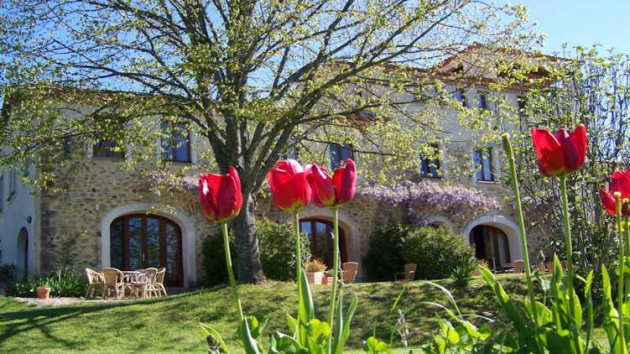 If you are looking for a relaxing holiday in South France, then these French holiday homes at Domaine de la Flotte are perfect. Domaine de La Flotte, is a country estate situated on a wooded hillside where you can enjoy the unspoilt nature and the beautiful views of the Pyrenees mountains in the distance. There are 4 holiday homes to rent at Domaine de la Flotte, each of which has been tastefully renovated to provide high quality holiday accommodation. Each holiday home has its own terrace, so your privacy is guaranteed. You can make use of the shared swimming pool, or you can follow magnificent walks or explore the surrounding hills on a mountain-bike. You can hire one of the horses and go for a ride in the hillside.
If you are looking for a relaxing and peaceful holiday in South France, then Domaine de la Flotte French holiday homes are the perfect choice. This really is an ideal spot to explore the rural countryside of Southern France.
Looking for a great holiday deal to Carcassonne France in 2022 . . . ?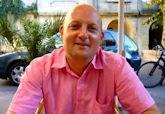 If you would like us to suggest some South France holiday villas or apartments to rent this summer in and around Carcassonne, then please contact us with your requirements. We are in touch with our property owners every day and we are the first to know of any discounted rates.
Just drop us a quick message and we will come straight back to you with a selection of properties offering the best late deals.
Alternatively, see our full selection of Carcassonne villas to rent France during 2022
Contact Iain by Email or by phone +33 6 95 00 28 44