Where is Cassis France?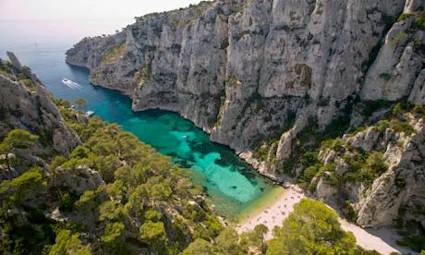 Cassis, France, is a town 20 kilometres (12 miles) east of Marseille in the department of Bouches-du-Rhône in the Provence-Alpes-Côte d'Azur region of southern France. Cassis is located on the South France coast and has traditionally been a fishing port, but during the last century it has developed into a famous French beach resort. Cassis is famous for its white and rose wines and for the deep, sheltered coastal inlets (called "calanques") which have amazing tuqouise waters and high white cliffs. Cassis lies between Marseille and Toulon on the eastern end of the French Riviera. Cassis is 2 hours drive from Nice and Cannes. It takes just 3 hours 45 mins to travel by train from Paris to Cassis. Aix-en-Provence is just a short drive away (35kms) and the Port town of Toulon is just 40kms.
Cassis travel information
Even though Cassis is located in a deep rocky valley, it is surprisingly easy to travel to Cassis from other parts of France. Cassis is connected by a train line which runs along the coast from Toulon to Marseille. Marseille airport is also just a 50 minute drive and there are regular boat services from Marseille to Cassis. Parking is always at a premium in Cassis itself (especially in the summer season), so where possible you are best to either take public transport, or to park at the train station or the park and ride car park and then take the regular bus shuttle service into Cassis itself.
How to get from Marseille to Cassis by boat?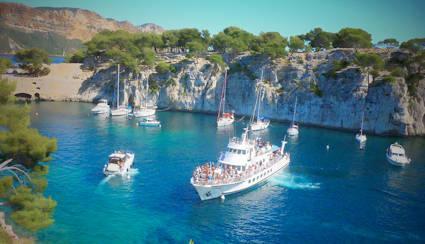 There are a number of boat tours that depart from Marseille harbour to Cassis. You can either take just a taxi boat (journey time around 1 hour 20 mins) or you can arrange one of the Marseille to Cassis Calanques boat excursions. This is by far the best way of exploring the amazing beaches close to Cassis as the boats drop anchor in the Calanques de Cassis and you can jump over board and snorkle in the crystal clear waters. There are loads of boat excursion companies, but www.bluevasion.fr and www.levantin.fr seem the most popular.
Bus from Marseille to Cassis
The Bouches-du-Rhône Bus line serves local towns from Marseille via Castellane and Cassis. The bus service takes just 45 minutes. There are 3 routes to choose from. Line M6 departs from the central bus station in Marseille and travels through Carnoux-en-Provence to Cassis along the A50 highway (this is the quickest route, but less scenic). Line M6-1 travels from Marseille to Cassis via Roquefort-la-Bédoule. Finally, Line M8 travels along the D559 from Marseille to Cassis. This route is a bit windy in places, but it is more scenic as it goes across the Gineste pass and the plateau of Carpiagne.
Train Marseille to Cassis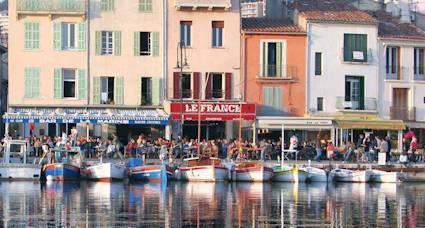 There are daily train services from Marseille to Cassis. The trains from Marseille to Cassis depart every 30 minutes and the journey takes just 25 minutes. You can catch the train to Cassis from Marseille St Charles train station (the main train station in Marseille). Cassis train station is 3 kms outside of the town, but there is a regular bus shuttle that you can take into Cassis itself. There are regulare TGV trains to Marseille from Paris (3hrs20), Lille, Strasbourg, Bordeaux, Brussels, Frankfurt, Geneva, Barcelona and Milan.
Nice to Cassis by train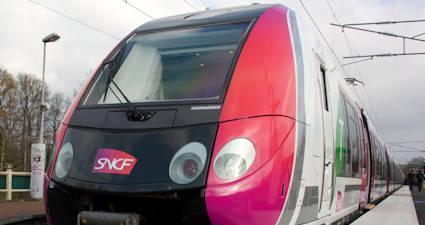 If you are looking to travel from Nice to Cassis, your best option is either to take the A8 highway and then the A50 (exit at junction 8), or to take the train from central Nice. The journey by train from Nice to Cassis takes 2 hours 30 mins and you will need to change at Toulon. The trains from Nice Ville station to Toulon run every 30 mins. The train from Nice to Toulon takes 1 hour 40 mins. There is then a short 10 minute wait in Toulon before catching the Toulon to Cassis train which takes 35 mins. The cost of the Nice to Cassis train journey is €23-€31 per person.
Where to next . . . ?
Contact Iain by Email or by phone +33 6 95 00 28 44 if you have any particular questions you would like to ask about visiting the South of France. If you liked the article then please share it with others using the Twitter and Facebook buttons below. I wish you a wonderful stay in the South of France.