Best Languedoc restaurants
If you are looking for a good place to eat in Languedoc, then follow the Go Languedoc guide to the best restaurants in Languedoc. The Languedoc has such a diverse range of good food and seasonal ingredients that you would think that the region would be awash with great restaurants. But with all the good Chefs heading off to Paris, Cote d'Azur and London, you often have to search hard to find a good place to eat. Here is our selection of the best Languedoc restaurants we have eaten at recently.
Best Languedoc restaurants: L'Entre Pots restaurant, Pezenas
L'Entre Pots restaurant, Pezenas, is without doubt the best restaurant in Pezenas, indeed in my opinion I would even describe it as one of the best gourmet restaurants in South France. Yes, it is (relatively) expensive, but when it comes to restaurants in Languedoc, "you get what you pay for". The think that I most like about L'Entre Pots are the different flavour combinations. I really have not tasted food like it (except at Gilles Goujon's Auberge du Vieux Puits). Praise indeed, but well justified (see L'Entre Pots for a full review).
Best Languedoc restaurants: Petit Bonheur, Sete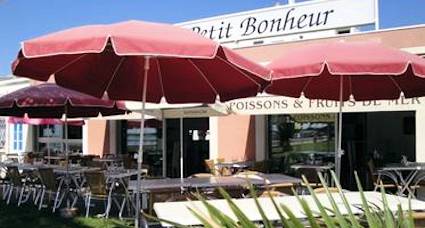 The Petit Bonheur restaurant situated away from the tourist restaurants on Sete's Grand Canal, is a good priced restaurant with excellent local food. The restaurant itself is unsophisticated and offers the best of Languedoc cuisine. If you are in the South of France and you want to have a decent relaxing meal then give Petit Bonheur a try. The restaurant is situated at 6 rue de la Savonnerie, Sete (for more information read our review of Petit Bonheur).
Les Vagues beach-side Languedoc restaurant
Les Vagues beach-side Languedoc restaurant on the Mediterranean coast near Cap d'Agde is the perfect spot if you want to have an excellent meal out overlooking the sea and beach. To say that Les Vagues overlooks the beach is not entirely accurate. Les Vagues is actually built on the beach.
Les Palmiers restaurant, Pezenas, Languedoc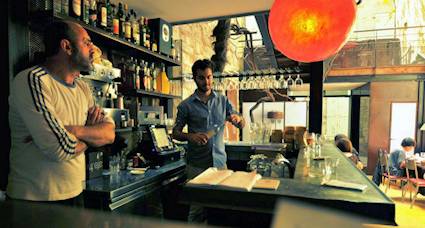 Les Palmiers restaurant in Pezenas, South France is probably one of the best mid-priced restaurants in Pezenas. The restaurant is set in a great location in an open-air courtyard in the heart of the old windy streets of Pezenas' historic quarter. You literally dine out under the stars, beneath 3 huge cream canopies strung in between the two adjoining properties.
Best restaurants Languedoc: Vinipolis restaurant & wine cellar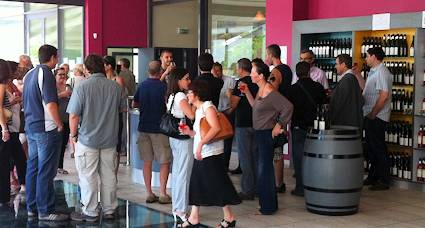 The Vinipolis restaurant and wine centre is a welcome addition to the Languedoc wine industry. The enterprising wine cooperative of Florensac opened the Vinipolis complex in 2008. Set in a shiny glass building, Vinipolis provides informative tours and wine tastings, together with an excellent brasserie next door.
Best Languedoc restaurants: Auberge de la Tour restaurant, Valros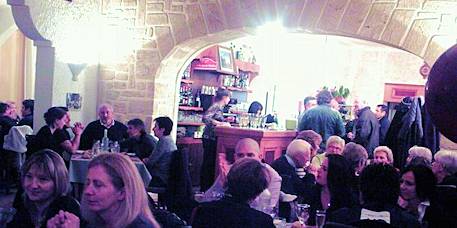 Auberge de la Tour, is situated in Valros, close to Pezenas on the N9 route national. It has long had a repuation as one of the finest restaurants in the Pezenas area. Whilst the atmosphere may sometimes be lacking, there is no doubt that the quality of the food is always superb (see Auberge de la Tour for further information).
Best restaurants Languedoc: Auberge du Vieux Puits, Michelin star restaurant, Languedoc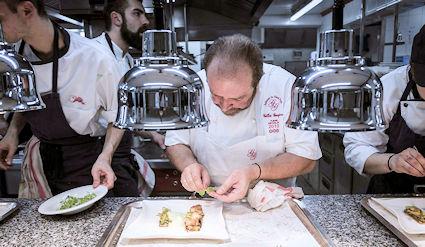 If you love excellent food and wine, then there can be no finer restaurant in the South of France as Auberge du Vieux Puits. This Michelin star restaurant is run by the celebrated French chef, Gilles Goujon; and it has just received its 3rd Michelin star award. I can not recommend this restaurant highly enough. The food, the service, the wine, the cheese . . . all were excellent. See our article on
Auberge du Vieux Puits
for more details.
Le Rajasthan Indian Restaurant, Montpellier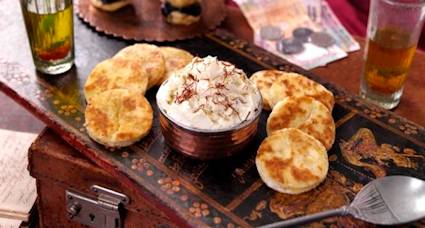 Le Rajasthan is in my opinion the best Indian restaurants in Languedoc. Not only is the food an authentic taste of India, but the setting is perfect as well. Situated in a pretty little square, just behind the main shopping street in Montpellier (see Le Rajasthan for more details).
Table d'Emily, South France restaurant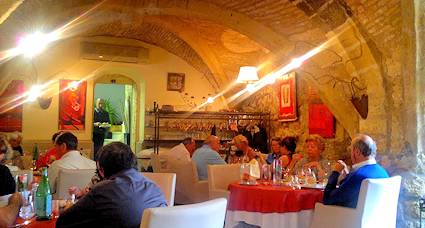 What a great little place this is. Tucked in the narrow streets in the heart of the port town of Marseillan, this restaurant was recommended to us by many friends who raved about it. It took us around 3 years to actually get to go there, but we were very impressed. The lunch time menus start from around €19 a head. We went full out and had the taster menu which was around €49. This menu combined oysters, St Jacques with Iberico ham, duck, beef and chacuterie in a never ending series of dishes. The wine is pretty good but a little on the dear side. We took a bottle of Picpoul de Pinet, followed by a Saint Chinian wine. But the most amazing thing is the cheese board. I thought that I had died and gone to heaven.
Table d'Emily is located at 8 place Carnot, Marseillan. Tel: 04 67 77 63 59. I would advise you to book ahead (certainly for the evening). The restaurant is closed during November and I think that it is also not open on a Tuesday (if memory serves me correctly). Table d'Emily seats around 50, with an extra 15-20 seats outside in the courtyard during the summer months.
I would say that Table d'Emily restaurant is probably one of the best restaurants in Marseillan. Other notable restaurants in Marseillan include:
La Maison de Camille, this restaurant/cafe is run by very friendly people and is located right on the port side. The decor is very stylish and La Maison de Camille is a nice place to have a drink during the day or have a simple meal at night. We have only ever had drinks here and crepes for our boys, but I would like to try it during the evening. It would be a great place just to watch the world go by.
La Taverne de Port (32 Quai Atonin Gros; Tel: +33 (0)4 67 01 78 78, Email: This email address is being protected from spambots. You need JavaScript enabled to view it.), now I have never been here and the main reason forthis is that whenever I go past, it is always jammed full (always a good sign). It is only a small place, but the atmoosphere looks good. The menu seems to lean towards fish and shellfish (which makes sense given you are sitting on the edge of the best oyster and mussel producing lake in France). Also, people we know in Marseillan say that you can always get a good bottle of wine here.
Le Chateau du Port (9 Quai de la Résistance; Tel: +33 (0)4 67 77 31 67; Web: www.chateauduport.com). Friends bought us a meal here as a joint birthday gift. It was a few years back when we were really struggling for money whilst we were building up the website, so it was very much appreciated. I cannot remember much about it, other than the wine was extremely good and the food was a good standard, (but without being spectacular). The inside is very chic and it is located overlooking the port (on the quieter right side). We have friends who always go there and they say that they have never had a bad meal yet.
L'Auberge du Presbytere, Languedoc restaurant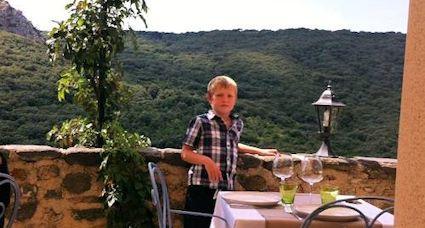 This restaurant has one of the most amazing views. It is located on a rocky outcrop in the hills above Roujan. The local village is called Vailhan and we often go here to swim in the lake that is below the village. We have also been to a Music Festival in the village (a very drunken night). It is a sleepy sort of village and you do need a map and compass to find it (it is about 5kms along country roads out of the back of Roujan). We took two of our sons here, just before I was going away on a work contract. It was the middle of August, the sun was shining and we were sat outside having fantastic food. The lunchtime menu is small, but you can easily find something that you like. All the produce is locally sourced and cooked very well. They tend to overdo the 'foaming' but the taste combinations are very good. Wine is the usual restaurant price. But the most interesting thing that happened was that I was stung on the underside of my foot by something (it must have been a hornet) and then when I was on the plane the next day my foot swelled up like I had Elephantitus. I do not know what they feed the bees and wasps in Vailhan, but it must be good. So all in all, I would recommend this place for a treat. I think that it would also be very nice to go here in the evening (less killer hornets around at night).
L'Auberge du Presbytere is located at 1 Rue de l'Eglise, 34320 Vailhan, France; Tel: +33 4 67 24 76 49. The restaurant is quite well sign-posted when you get into Vailhan. Just head for the church.