Buying Languedoc region wines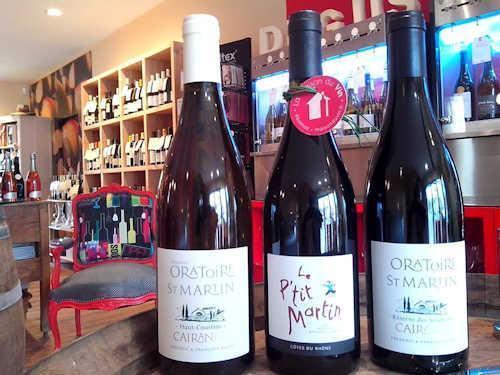 If you are interested in buying Languedoc region wines, then the Maison du Vin wine shop in Pezenas is the place to head. The owner Aurélien Carron is a trained wine Sommelier who specialises in selling the best Languedoc wines in his shop. We have know Aurélien for over 10 years - since when we first moved to Languedoc. We stayed in his B&B in Pezenas with his wife Veronique. They are the nicest people. What I like most about Aurélien is that even though he is incredibly knowledgeable, he doesn't give you "this has light floral notes with a hint of wild strawberries" nonsense. He simply and clearly tells you how they make the wine and how different things affect its flavour.
Selecting the best Languedoc region wines
The proof of the pudding was last New Year's eve. We were hosting about 14 of our French friends. All of them love their wines, but they also drink like sailors. So I went to Auréliens shop and said look, this is the situation, I am either going to be bankrupt or face the indignity of half full wine glasses left on the dinner table (it is like the walk of shame in France). He suggested a local Chardonay from Montagnac near Pezenas. It went down a storm. One person even took a photo of the label (which is the equivalent of winning the Palme d'Or for party hosting in France).
Languedoc region wine tasting
The best thing about Aurélien's shop is that he has these groovy wine tasting machines that hold about 20 different wine bottles. He gives you a little credit card, you then use it to select the wine you want to taste. Then you pay for what you have tasted at the end. Aurelien gives you background information on each wine and he tries to select wines for you to taste based on your own preferences. If you don't like any of the wines, you are then not under any pressure to buy. In fact Aurelien makes a point of telling you that. Aurélien holds a regular Thursday evening wine tasting (from 6pm to 9pm) which is a great, it is almost like a cocktail party. Also, Sunday morning is a good time to visit the shop as it tends to be quieter.
La Maison du Vin wine shop is easy to find in Pézenas. It is located on the main road into town (if you are coming in from the South), opposite MacDonald's and the Carrefour supermarket. There is parking in front of the shop and I am sure that Aurélien will give you a warm welcome - he speaks flawless English. There is a large selection of the best Languedoc region vineyards, as well as Champagne and some whisky and cognac.
Go Languedoc customers
If you tell Aurelien that you are a customer of Go Languedoc, he will provide you with a free wine sampling. If you are looking to stock up on wines whilst you are staying in Languedoc, then you will find the prices at Maison du Vin equivalent to the French supermarkets, but the difference is you can sample the wine first and you know that you are buying quality.
La Maison du Vin

59 avenue de Verdun
34120 Pézenas
tel : 04 67 26 96 76
Open Monday to Saturday: 10h-12h30 / 15h-19h30; Sunday morning: 10h-12h30h
Online shop : www.maisonduvin.fr