Classic French cookery school on Canal du Midi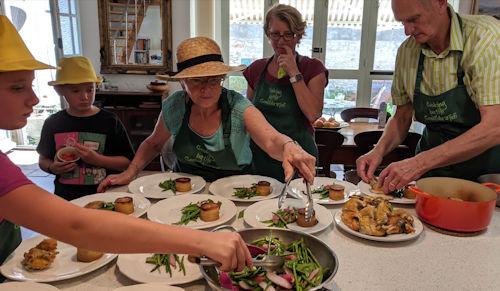 If you are on holiday in the South of France and you want to undertake an activity for all the family, then there is an excellent French cookery school on the banks of the Canal du Midi near Carcassonne, which offers one day classic French cookery lessons.
Situated just 50m from the banks of the Canal du Midi, 12km from Carcassonne, is Cooking by the Canal du Midi, offering a range of day cooking classes - French cuisine, Moroccan, tapas and a craft basketry class - for visitors and locals alike. The focus of the classes is fun and good food in a stunning location. Recipes are all easy to make and replicate at home and are provided to all guests after the class.
Cooking by the Canal du Midi is run by Sarah Hart and Keith Needham from their home in the former stable block of the beautiful Domaine de Millepetit.
Sarah Hart - French cooking school
Sarah is a published cookery writer, restaurant reviewer, former stand-up comedian and conference speaker, so a well-organised and entertaining day is guaranteed.
Keith is a former Underwater Acoustics Engineer now acting as sous chef, resident bread maker and general wingman. Together they have grown olives in Portugal, foraged in Wales and now devote their huge passion for local food, cooking – and most importantly – eating to the Languedoc region.
Sarah will show you how planning and preparation can help you take the stress out of cooking and demonstrate some simple techniques which you can use to wow your dinner party guests.
Lessons are delivered in English with a smattering of other languages when required, and are suitable for all levels and experience, from Masters of the Microwave to budding Gordon Ramsays. Children, boaters and those with disabilities and dietary needs are welcomed and accommodated wherever possible.
Classes are for between 4-8 cooks plus non-cooking companions are welcome to come for lunch only (1 companion per cook).
French cooking classes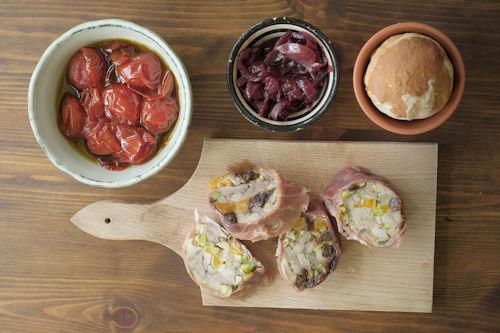 The cookery classes kick-off at 10.00am sharp and usually finish around 3.30 pm. The cookery class also features a sit down lunch on the banks of the Canal du Midi, where partners, Grandparents, etc, can join you for a lovely 3 course meal prepared by the 'chefs' with local wines. Reception is at 9:45am, where you will receive a short tour of the working farm at Domaine de Millepetit. You are advised to wear cool but comfortable clothes, with shoes or trainers preferred to sandals and flip flops.
Lunch is usually served between 1:30pm and 2:00pm. Please remember to bring sunblock and a hat. After lunch there is time to wander around the Domaine and plenty of photo opportunities.
The cost for the one day French cookery class is €125 per person (€90 for children). For companions joining for lunch, the cost is €40 per person. A deposit is taken to secure your place on the course and the remainder can be paid in cash on the day. The cookery classes encompass all levels of cookery skill and experience and their previous students have ranged from age 6 to 86!. Further details can be obtained from the Cooking by the Canal du Midi website.
Cooking by the Canal du Midi
You will find Sarah and Keith's French cookery school at 29 Domaine de Millepetit, Trebes, 1800 Aude, France. You can reach Sarah and Keith by phone at: +33 (0) 6 51 63 29 04 or by email at: This email address is being protected from spambots. You need JavaScript enabled to view it..
Further details can be found on their website www.canaldumidicooking.com/ or Facebook page Cooking by the Canal du Midi.
Directions to reach Domaine de Millepetit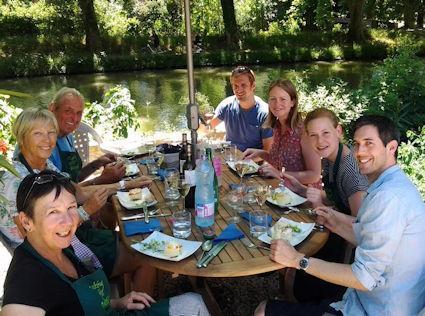 If you are travelling by car:
From the direction of Carcassonne - follow the D610 through the village of Trèbes towards Marseillette. Drive about 3.5 km from the Trèbes canal bridge and turn right at the end of a small olive grove lined by pine trees. You will see a small white sign saying "Millepetit". If you see a sign for "Millegrand" you have gone too far! Follow the tree lined avenue towards the canal, go past the back of the Chateau on your right and we are at the last house on the left with green shutters. Please park opposite the house.
If you are arriving by boat of cycling, you will find the Cookery school at the second bridge after the Trèbes locks and the second bridge from the direction of Marseillette. Cross the canal and follow the road past the big barn and then turn left then right. We are the house with the large glass doors and green shutters.
If you plan to moor your boat, please let Sarah and Keith know beforehand.
The GPS coordinates for Domaine de Millepetit are: 43.194940 2.482186.