Best Christmas markets France during 2022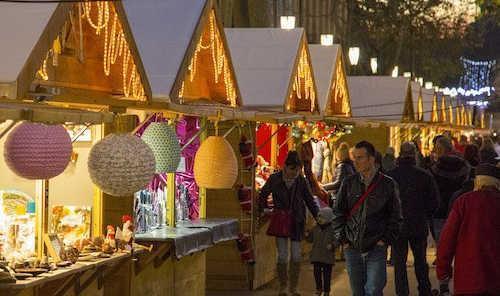 The best Christmas markets in France are to be found in the East (Strasbourg), North (Rouen, Amiens, Reims and Lille) and in the South (Avignon, Aix-en-Provence, Nice and Menton). I have heard from friends that the Christmas market in Bordeaux in Western France, is very special and is growing in size each year. Here we focus on the best Christmas markets in the South of France.
2020 Best Christmas markets France - South
There are a number of Christmas markets spread over the South of France, but perhaps the best known and most visited are the markets in Nice, Aix-en-Provence and Avignon. But I would also give a special mention to the Christmas market in Menton, France, because although smaller than the others, it is a real joy to visit.
These 2022 French Christmas markets are always widely anticipated, with each town looking to out-do the neighbouring towns with the most elaborate displays
Avignon Christmas market in France 2022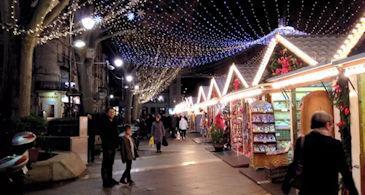 I would perhaps put the Avignon Christmas market as my first choice because it doesn't quite feel as purely commercial as the other Christmas markets I have been to. The Avignon Christmas market takes over the whole town and the different nativity scenes in the local Churches and along the Palais du Roure, as well as the floodlit buildings, brings a special atmosphere to the event. The music and street entertainers also make it a great event for the kids. The Avignon France Christmas market will be held from 1 December 2022 until 6 January 2022, for more information please visit our article Avignon Christmas market in France.
If you are thinking of visiting Avignon Christmas market, then we can help you find accommodation in Avignon for you and your family (visit Avignon accommodation for our full listing).
2022 French Christmas market in Aix-en-Provence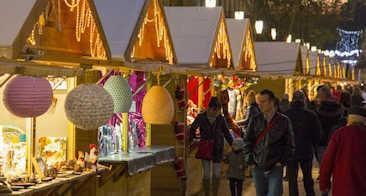 Christmas is an especially good time for visiting Aix-en-Provence because the Christmas market brings a real distinct atmosphere to the city. The main pedestrianised shopping street in Aix-en-Provence, the tree-lined Cours Mirabeau, is decked out with Christmas lights, decorations and a whole collection of market stalls selling local food and wine, Christmas gift ideas and various craft work. During December, around 60 Chalets are set up along the Cours Mirabeau and the boutique shops along the street compete with each other for the best Christmas decorations. The particular French Christmas tradition of "Santons" or Nativity figurines features heavily at the Christmas market in Aix. These are sold at various market stalls on the Cours Mirabeau and along Allees Provencales.
Further information on the Christmas market in Aix can be found at Aix-en-Provence Christmas market. If you are looking to visit at any time of year, you can find a range of Aix-en-Provence accommodation options here.
2022 Nice Christmas market France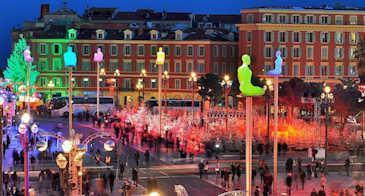 The biggest Christmas market in the South of France is held in Nice every year. The "Le Village de Noel" is held in the central Jardin Albert 1er that incorporates an ice rink, a Ferris wheel and a lot of Christmas related food and drink. The Nice Christmas market is themed around an alpine village and you will see the stalls located in 60 French mountain chalets and an alpine forest constructed from over 600 pine trees. Perhaps the most picturesque element of the Nice Christmas festival however is the Christmas lights and decorations along the Promenade des Anglais. The Nice Christmas market runs from 1 December 2022 to 1 Jan 2022 in the Jardin de Albert 1er and is open from 11.00 to 20.00. Papa Noel makes an appearance from his busy Christmas schedule from 19 to 25 December 2022 (from 14.00 to 19.00).
If you are planning on visiting Nice Christmas market, it is also an opportunity to pop down the coast to visit the nearby Menton Christmas market (just 20kms away). For more information on the Nice Christmas market please visit our article Christmas in Nice. We can also provide a range of accommodation options for you to stay in Nice during Christmas (Nice apartments to rent).
2022 Menton Christmas market France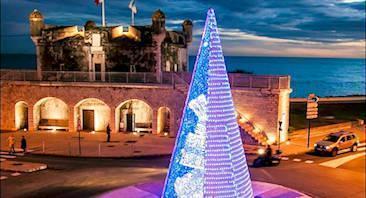 The Menton Christmas market takes place from 1 December 2022 to 6 January 2022. The Menton Christmas market is a good place to bring families to shop because it is not too crowded and there plenty of activities for the kids to enjoy. The market is centred on the Bioves Gardens, but you will also find events taking place at other locations including Les Halles (the indoor market) and the Marché du Carei, located on the Promenade du Maréchal Leclerc. But what makes the Menton Christmas market so special is that the whole town gets involved in the festivities. All throughout Menton you will find lovely nativity scenes displayed in doorways, small alleys and in the shops. The market is open from 10.00am through to 19.00pm each day. The Menton Christmas market, with its extraordinary nativity scenes, is widely regarded as one of the most colourful Christmas markets in France. Also, with Nice just down the road, you can take in two of the best Christmas markets in France during your stay.
Valbonne 2022 Christmas market France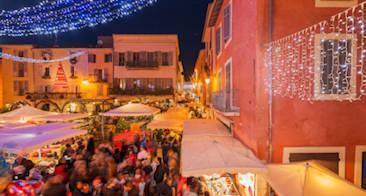 The 2022 Valbonne Christmas market France, will be taking place from 18 to 20 December 2022 on the Place Méjane to Garbejaïre. The festivities will then transfer to various streets around the centre of Valbonne from 21 to 24 December 2022. In the run up to Christmas, the beautiful French village of Valbonne holds a large Christmas market in the Place des Arcades. This lovely square is transformed into an Alpine scene complete with over one hundred stalls run by local food producers, artists and artisans. Valbonne's Christmas market features a range of food products from cheese, to tapenades, foie gras and honey. You will also find a good range of local crafts for holiday season gifts and whilst the children will enjoy the carousels and fireworks, magic shows and a small petting zoo.
Where to next . . . ?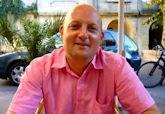 Read our article on the 2020 Menton Christmas market France to visit
Interested in visiting South of France? Check out some of our French Riviera villas to rent

Read about the huge Nice Christmas Market France to visit in 2022
Check out the Best French food markets in South France to visit
Contact Iain by Email or by phone +33 6 95 00 28 44 if you have any particular questions you would like to ask about visiting the South of France. If you liked the article then please share it with others using the Twitter and Facebook buttons below. I wish you a wonderful stay in the South of France.